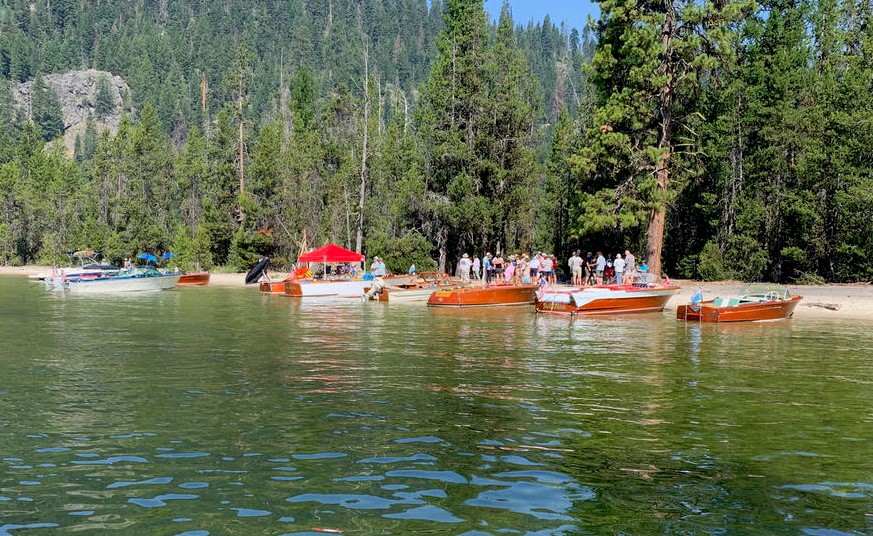 ANNUAL PAYETTE LAKE WOODEN & CLASSIC BOAT SHOW
August 4,5 and 6, 2023 Mark your calendars!
For all you ACBS boaters of all chapters, the Payette Lake Chapter in McCall, Idaho invites you to join us with your classic boats in attending a fun antique boat show coming up August 4, 5 & 6. This year we are partnering with the City of McCall to host the show on beautiful Payette Lake. There will be up to 32 boats of various ages and construction materials in the water and additional areas for on land static displays. The show will begin on Friday afternoon, with a hosted get together that evening. The classic boats will be on public display at the city docks of Art Roberts Park and Legacy Park Friday, August 4th, noon until 6pm and again on Saturday, August 5th from 9am until 6pm.
The site is in the center of town at the docks of Art Roberts and Legacy Parks. (Dock Locations). Saturday night will be the show banquet and awards at the historic 'Glass House' on the lake. Non-judged awards will be given for People's Choice, Skipper's Choice, Best Utility, Best Runabout, Best Fiberglass and Youth Judging. Sunday morning, we have our classic boat 'Run to North Beach' for coffee and cake for event participants.
For exhibitors, we encourage owners of fiber glass classics built 1992 and earlier to show their boats. Exhibitors are met at the launch ramp at Mile High Marina by our launch crew who helps unload boats and then directs parking for trailers so that they may enjoy the ride to their assigned show space. At the close of the show on Sunday, the launch crew will help to reload the exhibitors' boats again.
This year we have the ability to reserve rooms at the Glass House. If interested, contact Joe Eiguren at 208-869-3810 or jeiguren@bmmria.com. Also joining us this year will be an adjacent classic car show featuring cars from the Idaho British Car Club. So, whether your love is classic wood boats or classic cars, plan on attending.
Just click on the registration form link below. Please print out, complete and return the two-page Registration Form with payment by July 22nd.
http://www.payetteclassicboats.net/wp-content/uploads/2023/05/2023-boat-show-registration.pdf
We hope to see you there!

2023 Boat Show Schedule
Friday, August 4th
9am to noon: Boat Launch – McCall ramp next to Mile High Marina
11am to 1pm: Boat Registration – Chapter Tent at Art Roberts Park
Noon to 6pm: Boat Show Open to Public – Art Roberts & Legacy Park Docks
2pm to 4pm: Cocktails and Snacks Reception on the Beach
6pm to 6:30pm: Skipper's Meeting – Bistro 45
Saturday, August 5th
10am to 5pm: Boat Show Open to Public – Art Roberts & Legacy Park Docks
1pm to 4pm: Live Music – Art Roberts Park Lakeside
2pm to 3pm: Youth Judging – Art Roberts & Legacy Park Docks
5:30pm to 6:30pm: Cocktail Hour – Glass House Event Center
6:30pm to 9:30pm: Banquet Dinner, Program & Awards – Glass House Event Center
Sunday, August 6th
7:30am to 9:30am: Morning Run to North Beach – Coffee & Coffee Cake Served on the Beach
10am to Noon: Boat Pull Out – McCall ramp next to Mile High Marina
Click here for Registration Form