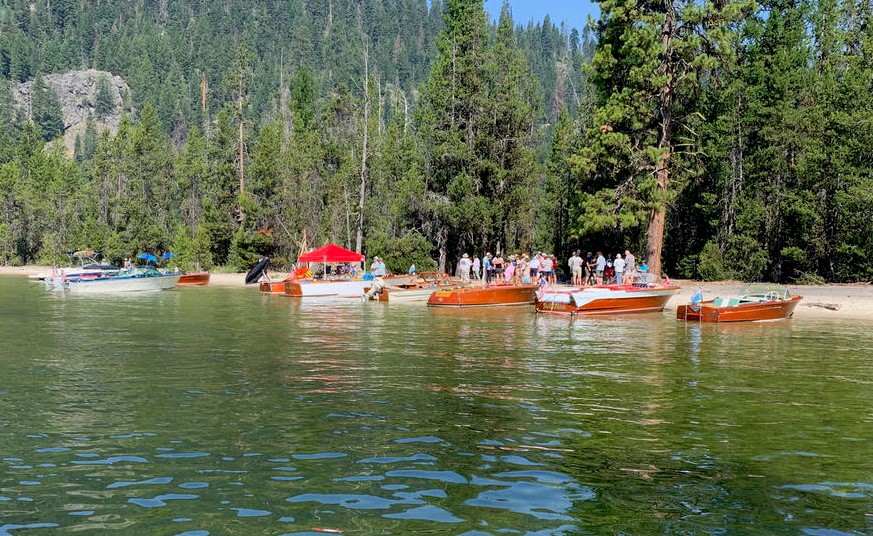 ANNUAL PAYETTE LAKE WOODEN & CLASSIC BOAT SHOW
August 5 through 7, 2022 Mark your calendars!
After a two-year hiatus due to Covid-19 restrictions, the Payette Lake Wooden and Classic Boat Show will be held on beautiful Payette Lake in McCall, ID this August 2022. It has become a summer tradition to many.
The site this year is in the center of town, at the docks of Art Roberts and Legacy Parks. (Dock Locations). We are happy to announce that the City of McCall will join us in hosting this year's show. This location is convenient to many shops, lodging and restaurants. For visitors, the show affords an exhibit of antique and classic boats in the water and on land with an opportunity to speak to the owners. There will be space for up to 26 boats in the water, plus several dry land display boat spaces, using the Legacy Park promenade areas. This year the show will be judged only for 'Skipper's Selection', People's Choice' and "Youth Judged'. We want to focus on enjoying our time on the water and sharing our interest in antique and classic boats with others.
For exhibitors, we encourage owners of fiber glass classics built 1992 and earlier to show their boats. Exhibitors are met at the launch ramp at Mile High Marina by our launch crew who helps unload boats and then directs parking for trailers so that they may enjoy the ride to their assigned show space. At the close of the show on Sunday, the launch crew will help to reload the exhibitors' boats again.
Just click on the registration form link below. Please print out, complete and return the two-page Registration Form with payment by July 22nd.
We hope to see you there!

2022 Boat Show Schedule
Friday, August 5th
9am to noon:  Boat Launch – McCall ramp next to Mile High Marina
11am to 1pm:  Boat Registration  – Chapter Tent at Art Roberts Park
Noon to 6pm:  Boat Show Open to Public – Art Roberts & Legacy Park Docks
2pm to 4pm:  Cocktails and Snacks Reception on the Beach
6pm to 6:30pm:  Skipper's Meeting – Bistro 45
Saturday, August 6th
10am to 5pm: Boat Show Open to Public – Art Roberts & Legacy Park Docks
1pm to 4pm: Live Music – Art Roberts Park Lakeside
2pm to 3pm: Youth Judging – Art Roberts & Legacy Park Docks
5:30pm to 6:30pm: Cocktail Hour – Glass House Event Center
6:30pm to 9:30pm: Banquet Dinner, Program & Awards – Glass House Event Center
Sunday, August 7th
7:30am to 9:30am: Morning Run to North Beach – Coffee & Coffee Cake Served on the Beach
10am to Noon: Boat Pull Out – McCall ramp next to Mile High Marina
Click here for Registration Form