Join Us for Payette Lakes 13th Annual Antique and Classic Boat Show!
The Payette Lakes Chapter of the Antique and Classic Boat Society invites the public to attend the 13th annual boat show at the Shore Lodge in McCall on July 28 – 31, 2017. Over 40 beautiful wooden and classic boats are expected to participate in this years show.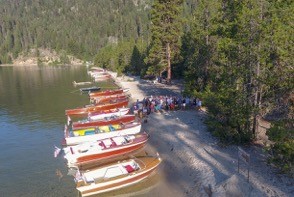 Highlights of the show include a boat parade on Saturday morning from Shore Lodge to downtown McCall. Boats will be available for viewing between 3 pm to 6 pm on Friday; 10 am and 5 pm on Saturday and from 10 am to 3 pm on Sunday. On Sunday morning there will be an early morning run to North Beach – what fun! The public is encouraged to talk to boat owners about accompanying them on the run to North Beach or the parade.
The Shore Lodge is one of the best venues for a boat show in the country. Visitors can view classic boats while enjoying the beauty of Payette Lake and partaking in the many amenities the Lodge has to offer. There is no charge to attend the show and view the boats.