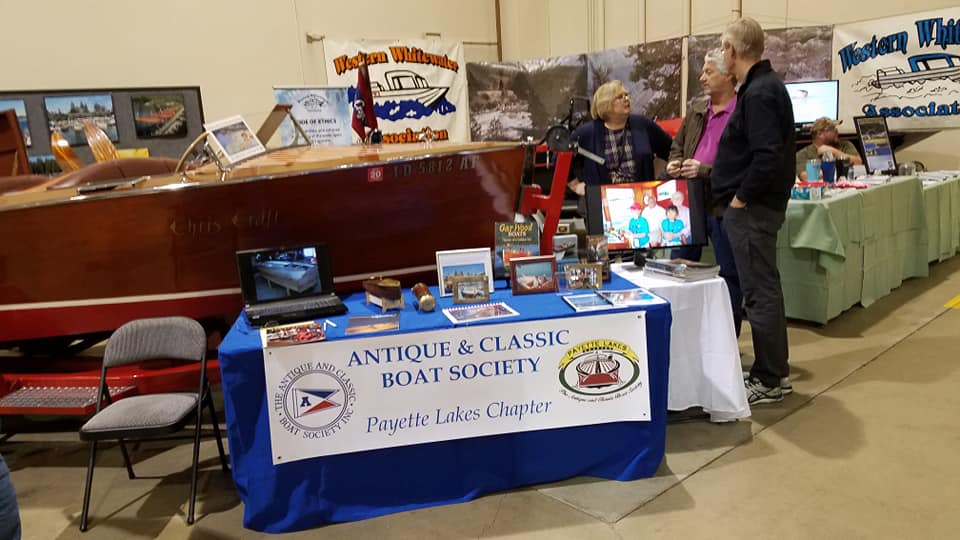 The Payette Chapter just completed participating at the Boise Boat Show that ran January 3-5, 2020.
We want to thank those that manned the booth and talked with the many interested people stopping by. Those are Gary Lyons, Marj and Mike Dougherty, Greg and Laura Plummer, Barry McCahill, Chuck Dollar and Lloyd Putnam. Plus a big thank you to Mike and Marj for providing their 1938 17' Chris Craft Runabout. It was a hit!
The show drew over 2,500 attendees. We had at times a steady stream of people stopping by and at other times some lulls.  But overall there was a lot of interest in our 'non-plastic' display at the show. The majority of people had either not heard about the upcoming July 24-26 McCall boat show or were interested but didn't know when it was, so handing out a flyer with that information should prove to be beneficial to increased attendance. We did get some interest of joining ACBS and the chapter so we will have to see how that plays out. There was a lot of discussion on wood boats, restoration, how they sound on the water and many thumbs up from those we did talk with.